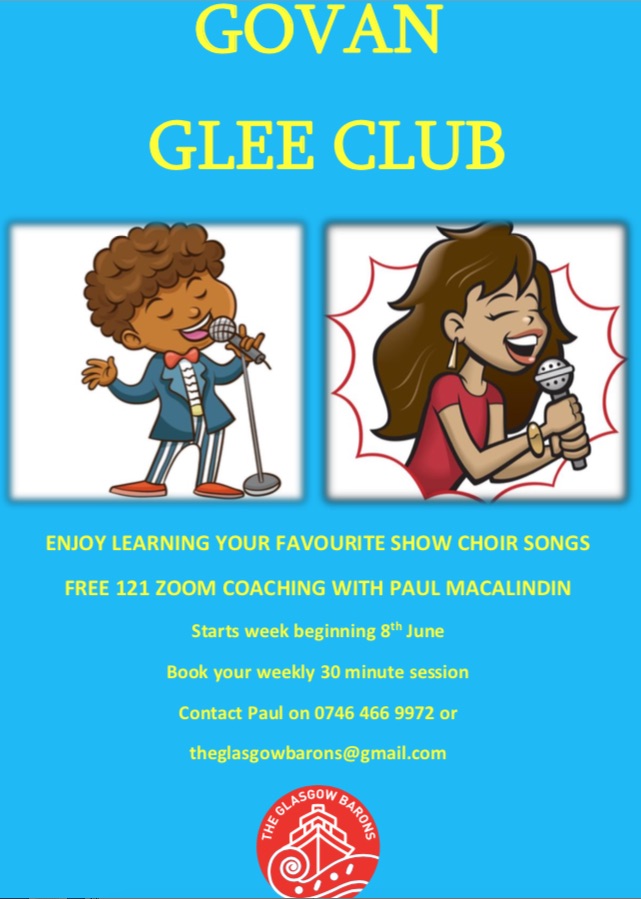 SINGING together is proving instrumental in helping our community cope with lockdown.
And it is going a long way to lifting people's spirits thanks to a community-based orchestra.
Govan's own orchestra known as The Glasgow Barons has been running hugely-popular music sessions to entertain shoppers and passers-by at Govan Cross each Wednesday.
Now members of the community are participating in online singalong sessions and one-to-one coaching to beat the lockdown blues.
It is being paid for thanks to Scottish Government funding distributed locally by the three local housing associations – ourselves here at Elderpark Housing working with LInthouse and Govan housing associations along with regeneration group Govan Thriving Place.
"The Govan Glee Club" delivers 30 minute one-to-one coaching to help individuals learn favourite show choir songs.
"The Linties" is a weekly singalong of old standards and classic tunes – particularly popular with older people.
Both are free and provided via the Zoom communications platform to comply with current social distancing rules. They are delivered by Govan resident Paul MacAlindin – Artistic Director of The Glasgow Barons.
Interestingly, the Glasgow Barons takes its name from the shipbuilding barons who presided over Govan's world- beating maritime industrial prowess.
Paul said: "Music has widely recognised therapeutic values and the money we have received will help people enjoy music more – especially during the ongoing health emergency.
"The Linties and The Govan Glee Club are important ways of encouraging people to enjoy music."
Further details are available at the orchestra's website www.glasgowbarons.com or by email to theglasgowbarons@gmail.com