New Mural –  People Make Govan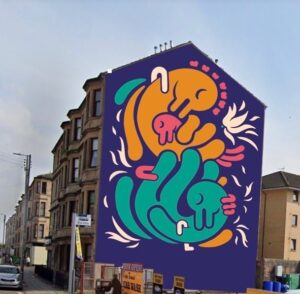 Many residents will have seen the fantastic mural at the corner of Crossloan Rd and Uist St which depicts Sir Alex Ferguson and the women of Govan who became munitions workers to help the war effort during WW11.
The mural created such interest that the Association decided to install another piece of artwork promoting the Central Govan Action Plan slogan, "Get into Govan" slogan at the post office on Craigton Rd.
The Association is excited to announce we are working with artist collaboration GSW3 to install artwork on a tenement gable end on Crossloan Rd as part of the Glasgow mural trail.
The Mural Trail is part of a citywide initiative to rejuvenate streets and revitalize buildings and vacant sites throughout Glasgow transforming them into beautiful pieces of public art.
The planned mural will be a bold colourful and eye-catching piece of artwork showing two birds cradling their young and is based on the theme of migration.  The mural below depicts, birds that  migrate to  warmer safer climates to raise their young and give them the best chance to survive and flourish.
Migrating birds are like people,  who due to political or environmental factors have come to Govan in search of a better life.  When they arrived here they may not speak or understand the dialect. But to flourish they made friends, opened businesses, served the community, and raised a family.  Through this process they become part of this place, and belong to it; they become Govanites and Glaswegians.
GSW3 will be consulting with stakeholders and community groups to get their views and opinions on the mural and the theme behind it with a plan to install the mural by the end of July
If you have any views on the Mural, we would love to hear from you.  If so please contact Jim Fraser on 0141 440 6169 or by email at jim.fraser@elderpark