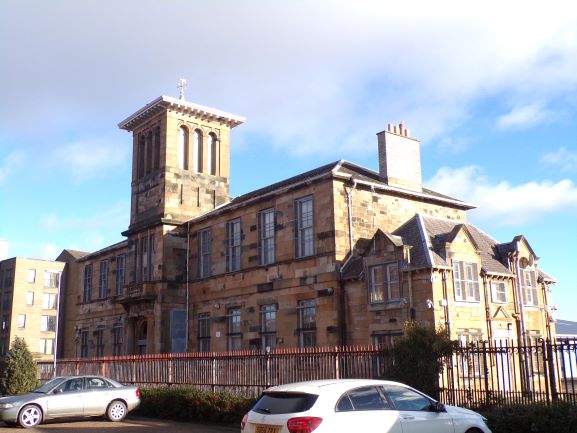 Serving up some history with the return of Hills Trust School
A Big School Dinner is about to be served as a much-loved school gets ready to open its doors once again.
The iconic Hills Trust primary school in Govan is being restored to provide new offices for us here at Elderpark Housing Association.
The 19th century Govan landmark which has been in a state of disrepair for some time has been saved for the community and given a new lease of life. Now we want to hear from people who have a connection to the school in order to bring 50 of them together for a free celebratory lunch.
Places are available and will be allocated on a first come first-served basis for the lunch on Monday 12th August in Elderpark Community Centre.  People wanting to attend are asked to email a request for up to two tickets to hillstrustmemories@elderpark.org or admin@elderpark.org  
Alternatively please call Elderpark Housing Association on 0141 440 2244 by Friday 2 August at the latest.
Elderpark says the lunch is a fitting way to celebrate the school and a great opportunity to bring people together to share their memories. The food will have a distinctly "school dinners theme.  Places are strictly limited at the Elderpark Community Centre venue and people interested are encouraged to contact the Association quickly due to the expected popularity of the occasion.
The famous school, with its recognisable bell tower on Golspie Street, was built on land bequeathed to the Govan community by 18th century philanthropist Abraham Hill. Thousands of local children were educated within the walls of the distinctive "B" Listed building between 1876 and after its closure in 1974 pupils were transferred to a new building on Nethan Street.
The conservation repair of the building is being part-funded by the Govan Cross Townscape Heritage Initiative, supported by the Heritage Lottery Fund, Historic Environment Scotland and Glasgow City Council.
Shirley McKnight, Deputy Chief Executive of Elderpark Housing, said: "'This is a great opportunity for people to rekindle their memories of a well-known school which served this community for nearly a century.  "The Big School Dinner is sure to be a big success as we celebrate a landmark Govan building and ensure its future is a bright one."