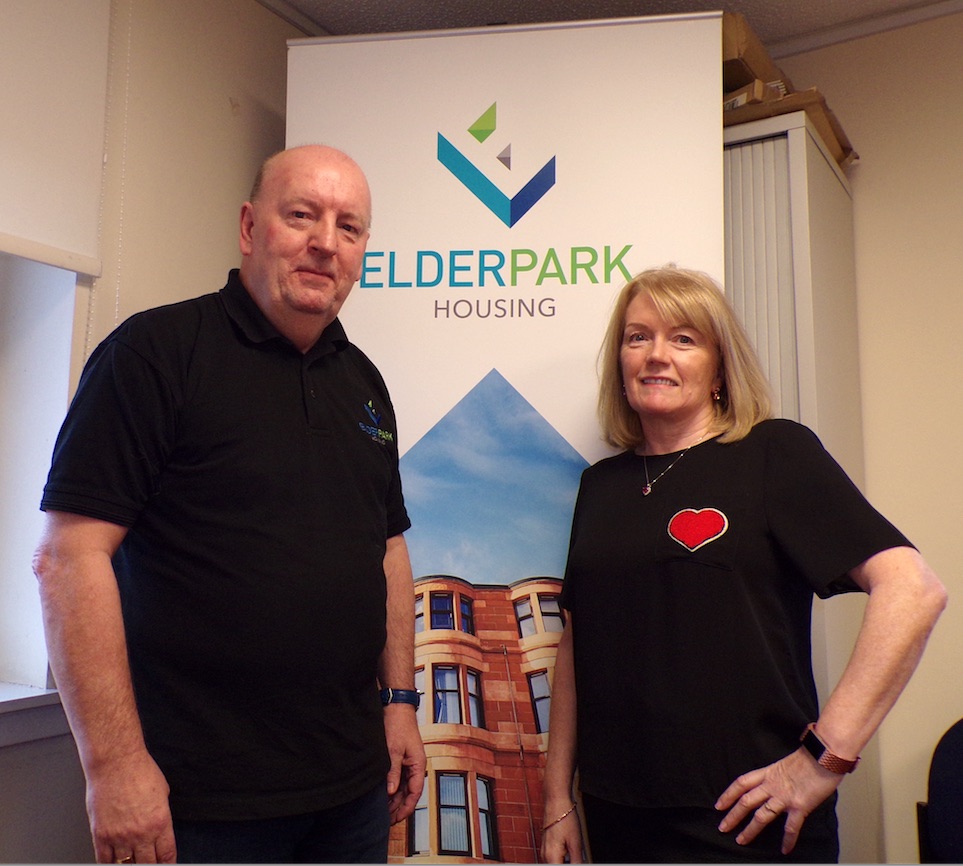 TWO long-serving members of our staff are celebrating a very special anniversary.
Marie Lubanski and Terry Frew began work as young housing professionals here at Elderpark within days of each other in 1980.
Now after four decades of unbroken service to the Association  – and to the wider housing association movement – both are celebrating this important milestone.
For Finance and Human Resources Officer Marie her working life has been spent not far from where she grew up in neighbouring Drumoyne.
Her interest in housing began when she worked on a nine-month long Manpower Services Commission at Govan Housing Association.
Marie said of her time at Elderpark: "While here I applied for two other jobs with different housing providers but although I was offered both positions I felt, on reflection, it was right to remain here.
"I'm very proud of my length of service and Elderpark is a great place to work. I'm glad I chose a career in housing because one of the guiding lights of the movement is that we are here not just to deliver good housing but help communities, too. That is a concept that appeals to me very much."
Marie added: "All of us are looking forward  to moving to our new office in the coming months. It will be a momentous chapter in Elderpark's history albeit tinged with sadness. Our late former Director Christine Murphy was very much the driving force behind acquiring the iconic Hills Trust School where the office will be located."
For Maintenance Manager Terry – who plans to retire within the next year – his working life began in the Building and Works department at the former Glasgow Corporation followed by a period with a private building contractor.
But he found his switch to the housing association movement set him on a rewarding 40 year career journey and he has never looked back.
He is quite possibly the longest-serving repairs and maintenance manager working in housing in Scotland.
Terry said: "I found my niche when I joined Elderpark and like Marie I realised that working in community-based housing was an extremely fulfilling career.
"Working for a few years for a large building contractor I came to realise that it was more about profit while a housing association is all about people. Helping our community is what it's all about."
Gary Dalziel, our Chief Executive, praised both Marie and Terry's commitment to Elderpark.
He said: "Marie and Terry personify commitment and dedication to the principle of community-based housing and we remain very grateful for their outstanding contribution over four decades at Elderpark."