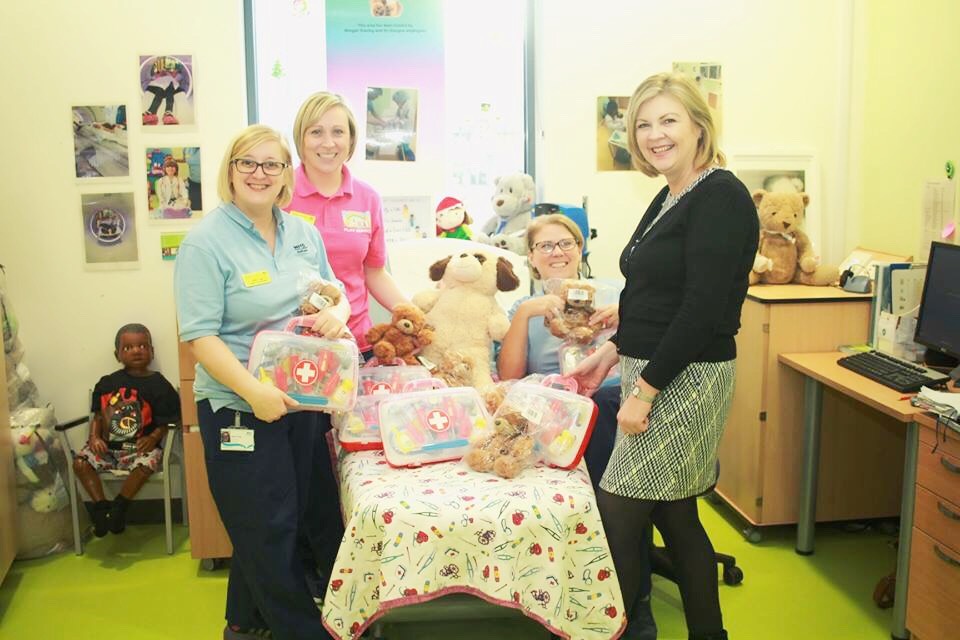 We donated toys to the Teddy Hospital this year which is a part of the Children's Hospital Charity. The Charity is based within the Royal Hospital for Children and they support Children and their families. 168,000 babies, children and young people are treated at the hospital every year and charity aim to ensure that patients receive the best possible care via the enhancement medical equipment, research, family support services and provision of play programmes.
Can you imagine being a child going to a big hospital to have treatment?
The Children's Hospital Charity have a Teddy Hospital facility, which is just one of the ways they support Children and families. It is an innovative way to demonstrate medical procedures using teddy bears and dolls, familiarise the children with medical equipment that they might see along the way and talk about what is going to happen during their hospital stay. The facility successfully educates children and effectively distracts them by adding a play element to what could be a difficult time for a child.
They create a positive experience for them which can be prior to and/or during the hospital stay.
If the patient is unable to visit the teddy hospital, the Teddy hospital visits the patient! The play specialist will go to the patient and provide support at their bed side and use a mobile cart with lots of resources and equipment from the Teddy Hospital.
The Children's Hospital Charity also fund research and family support services for those with Children attending the hospital for treatment.
If you want to find out more about this wonderful Charity, please take a look at their website.